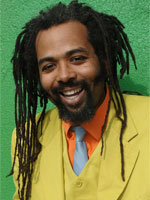 Stand Up Comedian Ngaio Bealum has always been funny. Starting as a street performer at San Franciscoís Pier 39, Ngaio quickly moved indoors, and became a San Francisco Favorite.
A finalist in the San Francisco International Stand Up Comedy Competition, his great storytelling ability combined with hit razor sharp wit and engaging stage presence never fail to leave any audience howling with laughter. He has appeared on ABC, MTV, BET, Comedy Central (most recently on The Sarah Silverman Program), and many other television shows(Byron Allenís Comics Unleashed, Merv Grifinís Crosswords).
Ngaio Bealum loves the Seattle Area. Especially Hempfest.